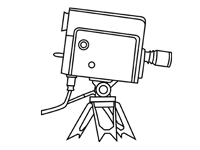 Historical film footage created of US military forces training villagers in South Vietnam, in villages just south of Danang.
ARVE Error: Mode: lazyload not available (ARVE Pro not active?), switching to normal mode

Catalog Card
Date: September 2, 1962
Original Title: TRAINING IN SOUTH VIETNAM, 09/02/1962 - 09/03/1962
Film Type: Color / Silent
Credit: U.S. Air Force
Archival Source: National Archives / 342-USAF / 342-USAF-36633
Transcript / Shot List
Coverage of training in use of rifles, mortars and machine-guns given to village militia by Vietnamese Army personnel. Shows range firing, assault and camouflage tactics and scenes of joint US-Viet medical parties at village aid stations. Reel 1: l) Series of scenes of Vietnamese Army personnel training civil guard in use of submachine guns. 2) US dentist working on woman's teeth. 3) Aid station, staffed by U.S. and VN civilian personnel, set up in village. 4) LS of smoke bursts on mortar range. 5) Men being trained on mortar, 30 cal machine guns, bazooka and BAR's. 6) Men firing Enfield rifles. 7) Village gate at Hoa Cam. 8) Trainees deploying for rifle class. 9) Trainees throwing smoke grenades, firing flare pistol and rifle grenade. 10) Camouflaged trainees practicing ambush tactics --shows them setting demolition charges, then advancing across plain. 11) Guardsmen on watch at river crossing, checking ID's, walking through village and talking on radio. 944' Total footage in reel. Reel 2: 1) Trainees being taught use of natural camouflage--shrubs, twigs, etc. 2) Trainees moving through brush in attack formation. 3) Guardsmen patrolling fence around hamlet. 4) Vietnamese workmen and Vietnamese Army troops building bamboo fence. 5) Trainees with M-1's moving forward in assault formation and firing rifles at dummy targets. 6) Vietnamese Army personnel issuing ammunition to civil guard trainees. 7) Trainees being briefed on use of M-1 rifle. 8) US Army instructors watching assault drill. 9) Trainees returning to camp from field exercise. 10) Trainees in classroom studying first aid. 11) Women trainees in classroom. 12) Outdoor classes in mortars, BAR's, 30 cal machine guns, M-1 rifles and carbines.
Notes
While the National Archives record identifies this footage as from September 2 and September 3, 1962, at least some of the clapboards show some being shot on August 31.