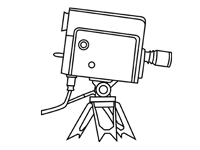 Footage of the Tactical Air Command on alert during the Cuban Missile Crisis at Homestead Air Force Base, Florida. Includes aerial shots of the planes on alert on the tarmac, dispersed to make them less vulnerable to surprise attack.
ARVE Error: Mode: lazyload not available (ARVE Pro not active?), switching to normal mode

Catalog Card
Date: October 24, 1962
Original Title: TAC OPERATIONS, HOMESTEAD AFB, 10/1962 - 11/1962
Film Type: Color / Silent
Credit: U.S. Air Force
Archival Source: National Archives / 342-USAF / 342-USAF-34535
Transcript / Shot List
Reel 11: 1) F-102's taking off--M-42 tank in fg. 2) Airmen arming F-102's with GAR Falcons and 2.75 FFAR's. 3) Air Force and Army personnel leaving chapel after services. 4) Ground crew retrieving F-102 drag chute. 5) F-102 taxiing to runway and taking off.
Notes
The date is approximate. The original shot list identifies it as being filmed during the Cuban Missile Crisis.
The original shot list doesn't cover all the reels in this clip (reels 8-11).