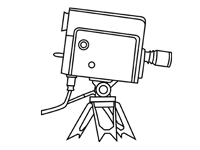 B-47 bombers of the Strategic Air Command are stationed on the tarmac at Memphis Airport during the Cuban Missile Crisis. They were stationed here during the crisis as part of the mobilization procedures to disperse SAC's forces to make them less vulnerable to surprise attack. SAC was at DEFCON 2 at the time.
ARVE Error: Mode: lazyload not available (ARVE Pro not active?), switching to normal mode

Catalog Card
Date: October 26, 1962
Original Title: DISPERSAL ACTIVITIES, 10/26/1962
Film Type: Color / Silent
Credit: U.S. Air Force
Archival Source: National Archives / 342-USAF / 342-USAF-34534B
Transcript / Shot List
Coverage of SAC B-47's at Memphis Airport during the Cuban Crisis. 1) Series of high angle views of B-47's on flight line at Memphis. 2) Security guards walking post around B-47's. 3) Memphis Airport Operations Building. 4) Ground crews working on B-47's parked on flight line.
Notes
As part of the Strategic Air Command's alert posture change on October 24, 1962, to DEFCON 2, about one-eighth of the command's B-52 force were on airborne alert and half of the total bomber force were ready to take off on a full bombing mission within 15 minutes.
In addition, 183 combat-ready B-47 bombers were dispersed to more than 30 airfields to make them less vulnerable to attack. Some were dispersed to civilian airfields such as Memphis Airport, shown in this footage that was original classified.
SAC stood down from DEFCON 2 to DEFCON 3 on November 21. On that date, the B-47s started returning to their home bases, a process that was completed on November 24.1