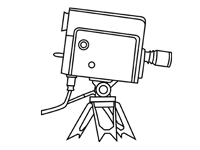 Silent footage of a press briefing by Secretary of Defense Robert McNamara regarding the Soviet buildup in Cuba during the Cuban Missile Crisis.
ARVE Error: Mode: lazyload not available (ARVE Pro not active?), switching to normal mode

Catalog Card
Date: November 1, 1962
Original Title: SECRETARY OF DEFENSE MCNAMARA'S PRESS CONFERENCE ON CUBAN CRISIS, 11/1962
Film Type: Color / Silent
Credit: U.S. Air Force
Archival Source: National Archives / 342-USAF / 342-USAF-35831
Transcript / Shot List
Coverage of press conference held by Secy of Defense Robert S. McNamara on the problem of Cuban missile bases and US measures taken to counteract the threat. (Shot list to follow.) Reel 1, 989': 1) Secy McNamara at press conference before wall map of world, displaying aerial photographs of Cuban missile sites and answering questions. 2) Secy McNamara with chart indicating range of Cuban based missiles. Reel 2, 998': 1) Secy McNamara mounting podium for press conference and talking while aides are preparing displays. 2) Secy McNamara holding up aerial photos of Cuban missile bases.
Notes
The date is approximate. The original NARA record indicates only that it was November 1962.
The color in the original film is badly deteriorated.