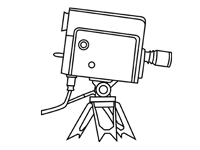 Secretary of Defense Robert McNamara and Chairman of the Joint Chiefs of Staff General Maxwell Taylor pose for cameras in a conference room in the National Military Command Center in the Pentagon.
ARVE Error: Mode: lazyload not available (ARVE Pro not active?), switching to normal mode

Catalog Card
Date: January 1, 1963
Original Title: Swearing in of Gen. Maxwell D. Taylor as Chairman of the Joint Chiefs of Staff, White House, Washington, D.C. ; Army flag presented to President Kennedy, White House, Washington, D.C. ; General Taylor and Sec. Defense McNamara, Washington, D.C., 10/01/1962 - 01/1963
Film Type: Black and White / Silent
Credit: US Army Audiovisual Center
Archival Source: National Archives / 111-LC / 111-LC-46351
Transcript / Shot List
Int, Joint Chiefs of Staff Command Post. Pan, clocks with time in various cities around the world. MS, Gen. Taylor and Sec. Robert S. McNamara seated at conference table.
Notes
The 24-hour military clocks on the wall show the local time at each of the major military commands around the world, including the Strategic Air Command and West Berlin.
The clip is not precisely dated, but the National Archives catalog information suggests it was taken in January 1963.