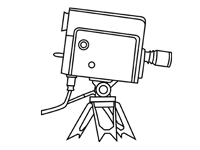 Footage of the 352nd Fighter Squadron preparing to deploy to Dhahran, Saudi Arabia, as part of Operation Hard Surface.
ARVE Error: Mode: lazyload not available (ARVE Pro not active?), switching to normal mode

Catalog Card
Date: June 28, 1963
Original Title: HARDSURFACE, 06/28/1963 - 07/06/1963
Film Type: Color / Silent
Credit: U.S. Air Force
Archival Source: National Archives / 342-USAF / 342-USAF-35367B
Transcript / Shot List
Coverage of F-100's from 352nd Fighter Squadron departing for Saudi Arabia. Shows pilots being briefed, eating breakfast, making preflight inspection and aircraft taking off. Also includes logistical support equipment being transported from Myrtle Beach AFB to Charleston AFB and loaded onto a C-123 and C-133's, aircraft taxiing, C-133 crew during flight and medic setting up a dispensary in Saudi Arabia. Reel 1--2' CU of 352nd Fighter Squadron insignia. 11' MCU's, MS's & MLS's of pilot's briefing including weather and pilots leaving room. 75' LS, MLS & MS of pilot walking to F-100D and climbing up to cockpit. (Wet ramp) 106' MCU's, MS's & MLS's of Lt Gibbs of the 352nd Fighter Squadron talking to crew chief, performing walk-around inspection, boarding F-100D and signaling to crew chief. 179' MLS left SV of F-100D -- pilot in cockpit and multi-servicing units in fg. 181' ELS's to MLS's to ELS's pan right with four F-100D's and F-100F with tanks taking off singly from Myrtle Beach AFB, South Carolina. 232' LS's & MS's of four F-100D's and F-100F with tanks taxiing right onto runway. 266' ELS's to MS's to KLS's of F-100F and four F-100D's with tanks taking off. 326' Sequence of scenes of flyaway kits and supply equipment on ramp and equipment being tied down on flat bed trailer at Myrtle Beach AFB. 371' Scenes of jet engine being towed by tug from hangar and loaded into C-123B, flight crew carrying personal equipment aboard aircraft and ramp closing. 474' MLS of C-123B with tanks taxiing left. 482' MS of portable floodlight, multi-servicing units and spare parts on flat bed trailer pulling away from ramp at Myrtle Beach AFB. 524' Scenes of flyaway kits, multi-servicing units and other support maintenance equipment being loaded aboard C-133 at Charleston AFB -- CU's of hand operating controls, foot on accelerator and braking and steering column on truck fork lift.
Notes