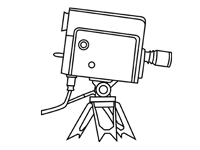 High speed film footage of above-ground and underground nuclear tests at Bikini Atoll and Nevada Testing Ground, including nuclear weapons effects tests.
ARVE Error: Mode: lazyload not available (ARVE Pro not active?), switching to normal mode

Catalog Card
Date: December 31, 1968
Original Title: BIKINI TEST, BIKINI AND NEVADA TESTING GROUND, ca. 1968
Film Type: Color / Silent
Credit: U.S. Air Force
Archival Source: National Archives / 342-USAF / 342-USAF-44850
Transcript / Shot List
Covers high-speed photography of surface and underground atomic explosions and testing of various structures, objects and materials for blast resistant qualities. Includes artwork depicting effects and measurement of atomic explosions and sequence showing Army doctors examining patients for radiation effects. Reel l: l) Scenes of helmeted personnel in protective trench during atomic explosion. 2) Extreme long shot of atomic explosion and mushroom-shaped cloud. 3) Artwork and animation dealing with atomic blast effects. 4) Testing of blast resistance of various objects, including explosion and before and after scenes in each case: Frame house; steel building framework; dispersed vehicles; railroad rolling stock; POL facilities; tents, bunkers, and measuring equipment; armored vehicles; brick and masonry structures; pine trees, palm trees; and building material samples. 598' Total footage in reel. Reel 2: 1) Artwork and graphs concerned with effects of atomic explosion, including radiation and fallout. 2) High angle extreme long shots of atomic explosions and smoke clouds. 475' Total footage in reel. Reel 3: l) Variety of scenes of atomic explosions and smoke clouds. 2) Series of nuclear explosions- atomic cannon visible right foreground. 3) AVs of UH-19 in flight and lowering measuring device. 4) Scenes of Army doctor examining patients for fallout and radiation effects.
Notes