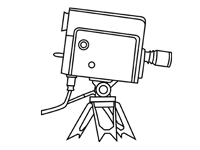 Enroute to the USS Hornet to greet the Apollo 11 astronauts on their return to earth, Nixon stopped in at the U.S. military base on Johnston Atoll in the Pacific Ocean.
ARVE Error: Mode: lazyload not available (ARVE Pro not active?), switching to normal mode

Catalog Card
Date: July 23, 1969
Original Title: PRESIDENT NIXON'S VISIT, JOHNSTON ISLAND, 07/23/1969 - 07/24/1969
Film Type: Color / Silent
Credit: U.S. Air Force
Archival Source: National Archives / 342-USAF / 342-USAF-45881
Transcript / Shot List
Covers stopover at Johnston Island by President Richard M. Nixon en route to the USS HORNET to greet Apollo 11 astronauts after their moon trip. Reel 1: 1) Photographic and recording equipment. 2) Sign: WELCOME TO JOHNSTON ATOLL LT COL C.E. McPHEE COMMANDER. 3) 1353d Photo Flt personnel with equipment. 4) Spectators in roped-off area. 5) VH-3A parked -- Secret Service agent in foreground. 6) VC-137C taxiing in. 7) Pres Nixon leaving VC-137C, being greeted by Adm John McCain, walking to group of spectators, and boarding VH-3A. 8) VH-3A taxiing out. 9) Presidential seal on VC-137C fuselage. 10) VH-3A taxiing in. 11) Pres Nixon leaving VH-3A. 12) Adm McCain talking with several USN and USAF officers. 13) Presidential advisor Henry Kissinger leaving staff car and walking to VC-137C. 14) Official boarding VC-137C. 15) VC-137C taxiing out. 689' Total footage in reel. 1) Adm McCain talking with USAF officer. 2) Pres Nixon arriving in jeep, talking with Adm McCain and boarding VC-137C. 3) VC-137C taxiing out.
Notes
Nixon then went to the USS Hornet to watch the return to earth of the Apollo capsule and to great the Apollo 11 astronauts. You can find footage of that here.