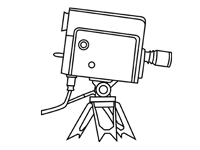 An edited film showing the design, building, and testing of the Minuteman ICBM in 1963, including the construction of hardened launch silos and inside the command center.
ARVE Error: Mode: lazyload not available (ARVE Pro not active?), switching to normal mode

Catalog Card
Date: December 31, 1963
Original Title: MINUTEMAN--FROM DESIGN TO DELIVERY, 1963
Film Type: Color / Silent
Credit: U.S. Air Force
Archival Source: National Archives / 342-USAF / 342-USAF-35392
Transcript / Shot List
Boeing film describing the assembly of the weapon system from design assembly, check-out and testing; site locations and construction; preparation of equipment and personnel; and acceptance speech by Brig Gen Samuel C. Phillips, Dir of Minuteman Program at Ogden Plant 77. Shows Minuteman in SSCBM moving out of MATS C-133B, transported to missile transfer building, transported by transporter-erector to missile site, emplacement in silo, launch and tracking of missile.
Notes