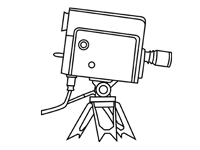 Footage of the medivac operations of the 315th Air Division Task Force Alpha in South Vietnam in April 1968.
ARVE Error: Mode: lazyload not available (ARVE Pro not active?), switching to normal mode

Catalog Card
Date: April 3, 1968
Original Title: 315TH AIR DIVISION TASK FORCE ALPHA, TUY HOA AB, DONG HA, QUI NHON AND QUANG TRI, VIETNAM, 04/03/1968 - 04/08/1968
Film Type: Color / Silent
Credit: U.S. Air Force
Archival Source: National Archives / 342-USAF / 342-USAF-43904
Transcript / Shot List
Covers the 315th Air Division Task Force Alpha personnel from Ching Chuan Kang AB on TDY to Tuy Hoa AB flying daily C-130 medivac runs to northern bases in the Republic of Vietnam. Shows the loading and offloading of wounded servicemen and C-130's landing and taking off. REEL 1: SLATE:ROLL: R30C-8H-1656. DONG HA. 1' Scenes of medic crew transferring litter patients, including a Viet Cong, from USMC field ambulance onto C-130. 50' LS RV as USMC field ambulance pulls away. 54' MS's of C-130 pilot Maj Philip D. Borsik watching offloading of patients and USA man talking into radio. 60' LS pan left from fire truck to parked camouflaged C-123K. 65' Scenes taken from inside C-130 through open cargo doors showing camouflaged C-130A taxiing in, arrival of field ambulance, transfer of litter cases, and treadways retracting inside aircraft. 102' EDITOR'S SLATE:ROLL: R30C-8H-1659. QUI NHON. 106' Scenes of medics transferring litter cases from C-130E onto medivac bus, ambulatory patients offloading, USA captain writing info on pad, and USA captain and AF pilot looking over check list on medivac run. 195' SLATE:ROLLS: R30C-8H-1659 (TAIL) and R30C-8H-1679. QUANG TRI. 209' AMS & AMCU's of copilot Capt Bocque, pilot Maj Philip D. Borsik, and navigators at their stations during flight. 232' Shows USA field ambulances arriving at tail of C-130, ambulatory patients getting out of field ambulance and litter cases being carried to aircraft, field ambulance pulling away, USA troops watching nearby, and a USA patient, on crutches, walking up C-130 ramp. 301' SLATE:ROLL: R30C-8H-1684. TUY HOA AB. 311' LS to MLS of camouflaged C-130E landing to right at sunset. 333' LS to MLS of crew and medivac crew walking to camouflaged C-130E and boarding aircraft. 351' MLS RV from under wing of C-130E engine starting. 362' MLS FV of C-130E backing up and taxiing left -- wing of another C-130E in fg. 386' EDITOR'S SLATE:ROLL: R30C-8H-1690. DA NANG. 39l' Scenes of litter cases including a North Vietnamese, being carried to medivac bus from C-130E, troops watching, CU of Red Cross on bus, and medivac bus pulling away from loading area. 475' SLATE:ROLL: R30C-8H-1694. 487' MS of sign at main entrance: UNITED STATES AIR FORCE, TUY BOA AB, RVN. 492' MCU of sign: 315TH AIR DIV. TASK FORCE ALPHA. 496' LS of camouflaged C-130A taking off to right. 510' LS's from end of runway of two camouflaged C-130E's taking off.
Notes