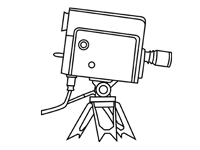 Footage of Marine Corps personnel at Khe Sanh camp in South Vietnam in May 1968. The camera follows Marines as they go about their daily duties and life at the camp.
ARVE Error: Mode: lazyload not available (ARVE Pro not active?), switching to normal mode

Catalog Card
Date: May 21, 1968
Original Title: RETURN TO KHE SANH, VIETNAM, 05/21/1968 - 05/23/1968
Film Type: Color / Silent
Credit: U.S. Air Force
Archival Source: National Archives / 342-USAF / 342-USAF-47033
Transcript / Shot List
Covers day-to-day activity of Marine Corps personnel at Khe Sanh camp. Shows Marines removing aircraft engines, eating, bathing, relaxing in bunkers; boarding CH-46A; examining and tagging captured Vietnamese weapons; and on duty in trenches. Reel 1: 0' ROLL: 2749 1) Marine troops relaxing near post office bunker. 2) Marines diving into trench during attack. 3) Maintenance personnel removing engine from wrecked C-130. 102' ROLL: 2750 4) Marines removing engine from C-130. 208' ROLL: 2751 5) Marine cutting propeller blade from C-130 engine with acetylene torch. 6) Crane operator moving engine, forklift picking up engine. 7) Marines firing 105mm howitzer. 313' ROLL: 2752 8) Marine cleaning 105mm howitzer. 9) TNT bunker, Marine selecting book from shelf, stretching out on bed and reading. 411' ROLL: 2753 SLATED 2739 10) Series of scenes of trenches and Marines. 490' ROLL: 2754 11) ELSs light weapons carrier and jeep traveling on dirt road. 12) Views of Marine with cache of captured weapons. 580' ROLL: 2755 SLATED 2757 13) Series of scenes Marine lieutenant tagging RPG-7 portable rocket launcher and showing launcher to another Marine. 14) Troops picking up trash and taking cover in a trench. 676' ROLL: 2756 15) MSs Marines seated on sandbags eating C-rations. 16) Reconnaissance patrol with camouflaged faces preparing for mission. 784' ROLL: 2757 SLATED 2758 17) ELSs CH-46A lowering cargo in sling, landing on helipad, troops boarding and helicopter lifting off. 890' ROLL: 2758 SLATED 2751 18) AVs Khe Sanh combat base and surrounding area. 982' Total footage in reel. Reel 2: 0' ROLL: 2748 Marine driving forklift, moving C-123 engine on pallet. 2) Troops seated on sandbags; views of Khe Sanh complex. 93' ROLL: 2747 3) Marines removing C-130 engine, C-123 engines being placed on pallets. 4) Troops on hill waiting for transportation. 201' ROLL: 2746 5) Marines showering and washing clothing. 315' ROLL: 2745 6) Marine lying in bunk reading. 7) Marines and Air Force troops relaxing and cleaning weapons. 8) Troop washing poncho liner. 409' ROLL: 2744 9) Marine entering his bunker, opening can of nuts, eating and preparing for bed. 514' ROLL: 2743 10) Various views of deserted bunker complex, barbed wire, camouflaged netting, sleeping Marine and M-16 leaning against bunker. 615' ROLL: 2738 11) MLSs three Montagnard tribesmen walking through Khe Sanh to medical facility. 12) Marine lieutenant walking in trench and talking to troops. 680' ROLL: 2739 SLATED 2753 13) Series of scenes Marine assembling captured AK-47 rifle. 783' ROLL: 2740 14) Marines playing cards in bunker and making soup in kettle over open fire in front of bunker. 869' ROLL: 2741 15) Troops ladling soup from kettle into cups and eating. 16) Various views of US flag flying. 946' ROLL: 2742 17) US flag flying at sunset.
Notes