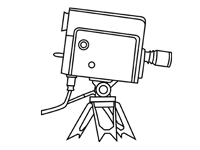 Footage of JFK speaking in West Berlin during his visit to the city on the Cold War's front lines on June 26, 1963.
ARVE Error: Mode: lazyload not available (ARVE Pro not active?), switching to normal mode

Catalog Card
Date: June 26, 1963
Original Title: President John F. Kennedy's visit to Berlin, Germany, 06/26/1963
Film Type: Black and White / Silent
Credit: US Army Audiovisual Center
Archival Source: National Archives / 111-LC / 111-LC-46996
Transcript / Shot List
VS, crowds applauding as President Kennedy finishes speech. LS, MS, Television camera operating from stand. Additional scenes of crowds.
Notes