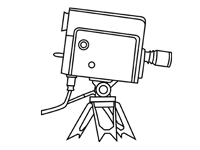 Silent film footage of JFK touring West Berlin with West German Chancellor Konrad Adenauer and West Berlin Mayor Willy Brandt.
ARVE Error: Mode: lazyload not available (ARVE Pro not active?), switching to normal mode

Catalog Card
Date: June 26, 1963
Original Title: President John F. Kennedy's visit to Berlin, Germany, 06/26/1963
Film Type: Black and White / Silent
Credit: US Army Audiovisual Center
Archival Source: National Archives / 111-LC / 46992
Transcript / Shot List
Motorcycle escort leads the way, followed by Presidential car. The President is accompanied by Chancellor Konrad Adenauer and Mayor Willy Brandt. Cut-ins of crowds. LS, pan; Congress Hall. MS, President getting out of car. LA, the President on platform looking twd the Wall, and the Brandenburg Gate. Views around Checkpoint Charlie; people; cameramen taking pictures. LS, people looking out of windows. LS, President Kennedy leaves the speaker's stand, gets into car and drives off. LS, French Honor Guard saluting American flag as it is raised on flagpole at Tegal AF Base. FLS, French, English, US, and German troops march to form Honor Guard. LA, shot of Major Brandt addressing crowd from speaker's stand. President Kennedy at his right. LS, pan R/L of crowds looking out windows and lining the rooftops. CU, crowds in streets. President Kennedy arrives at the airport, gets out of car and walks to platform where he greets Adenauer. MLS, Kennedy at microphone gives farewell speech to assembled crowd. LS, President boarding plane.
Notes