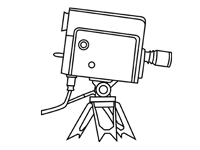 Silent, color archival footage of parts of JFK's visit to West Berlin on June 26, 1963, including his tour of Checkpoint Charlie and crowds at some of his speeches in the city.
ARVE Error: Mode: lazyload not available (ARVE Pro not active?), switching to normal mode

Catalog Card
Date: June 26, 1963
Original Title: President John F. Kennedy Visits Berlin, Germany, 06/26/1963
Film Type: Color / Silent
Credit: US Army Audiovisual Center
Archival Source: National Archives / 111-LC / 111-LC-47012
Transcript / Shot List
RV, ticker tape coming down on motorcade. INT, ceremony at which the President receives a decoration and then makes a speech. HS, dolly, guards lined up along street. MS, sign: "USA Checkpoint Charlie". Pan, looking into the Eastern Sector of Berlin from the Friedrichstrasse. Crowds in front of the Outpost Theater. MPs flanking the walk at Checkpoint Charlie, the President accompanied by Gen. Paul L. Freeman, Mayor Willy Brandt, and others walk by. HLS, pan over crowd as the President in car rides past. LS, Pres. Kennedy at speaker's stand beginning his speech.
Notes