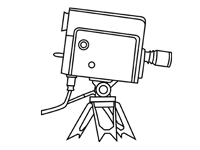 Silent film footage of JFK visiting the Brandenburg Gate and Checkpoint Charlie in Berlin, Germany, as well as other parts of his tour of the city.
ARVE Error: Mode: lazyload not available (ARVE Pro not active?), switching to normal mode

Catalog Card
Date: June 26, 1963
Original Title: President John F. Kennedy's visit to Berlin, Germany, 06/26/1963
Film Type: Black and White / Silent
Credit: US Army Audiovisual Center
Archival Source: National Archives / 111-LC / 46993
Transcript / Shot List
At the Brandenburg Gate area, the President arrives by car and is greeted by Brig. General R. Whitworth (British), and escorted to platform. Party leaving platform. LS, Brandenburg Gate with the Wall in foreground. President Kennedy speaking from stand. He leaves stand and greets people on the sidelines. Follow shot, the President standing in his car responds to the applause of the spectators. MS, motorcycle escort, buses and other vehicles following the Presidential car. (Note: Intermittent fog.) HS, Allied Checkpoint. Tilt up to American flag. HS, US MPs walking past the checkpoint. HLS, Russian border guards at gates. MS, US Army band passes reviewing stand. Crowds line sidewalks. LS, troops in formation as the President's car arrives at the Outpost Theatre area. He is greeted by Major General James H. Polk, US Commander in Berlin; the President greeting US officers. MS, the President and General Polk on stand. Polk introduces the President. President Kennedy addressing crowds.
Notes