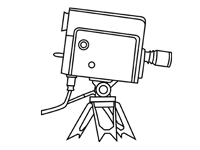 JFK arrives on Air Force One at Tegel Airfield, one of three major airfields in West Berlin.
ARVE Error: Mode: lazyload not available (ARVE Pro not active?), switching to normal mode

Catalog Card
Date: June 26, 1963
Original Title: President John F. Kennedy visit Berlin, Germany, 06/26/1963
Film Type: Black and White / Silent
Credit: US Army Audiovisual Center
Archival Source: National Archives / 111-LC / 111-LC-47010
Transcript / Shot List
Presidential plane coming in for a landing at Tegel Airfield and taxiing to a stop. President and party come off plane and are greeted by group. Pres. Kennedy and a French general walk to review platform. Follow shot as the two men review the Honor Guard and return to platform.
Notes
JFK was met at Tegel Airfield by West German Chancellor Konrad Adenauer, West Berlin Mayor Willie Brandt, as well as the British, American, and French Commandants in West Berlin: Major General Peel-Yates (British); Major General James Polk (American); Major General Eduard Toulouse (French). It is Toulouse who walks with JFK to the reviewing stand for the inspection of the Honor Guard (Tegel was in the French sector of West Berlin).