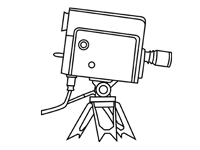 Film footage of President John F. Kennedy visiting the headquarters of the Strategic Headquarters in at Offutt Air Force Base, near Omaha, Nebraska, on December 7, 1962. Includes his arrival on Air Force One and delivering brief remarks.
ARVE Error: Mode: lazyload not available (ARVE Pro not active?), switching to normal mode

Catalog Card
Date: December 7, 1962
Original Title: PRESIDENT KENNEDY VISITS SAC HEADQUARTERS, 12/07/1962
Film Type: Color / Silent
Credit: U.S. Air Force
Archival Source: National Archives / 342-USAF / 342-USAF-34662
Transcript / Shot List
Coverage of President John F. Kennedy's arrival and departure by VC-137C, being greeted by Gen Thomas S. Power and the president presenting plaque to the SAC Commander. Other VIP's include: Deputy Secretary of Defense Roswell L. Gilpatric; Presidential Aide Brig Gen Godfrey T. McHugh; Chief of Staff, Army Gen Earle G. Wheeler (USA); Lt Gen Hunter Harris, Jr., Vice Comdr SAC; and Vice Pres Lyndon B. Johnson. (Shot list to follow.) 1) Shows VC-137C taxiing to parking area, Pres Kennedy followed by Mr. Gilpatric, Gen Wheeler (USA), and Brig Gen McHugh and party being greeted by Gen Power -- Vice Pres Johnson was among VIP's present. 2) Scenes of SAC Elite Honor Guard -- Lt Gen Harris in bg saluting. 3) Pres Kennedy walking between SAC Elite Honor Guard and leaving in convertible. 4) Shows the Presidential motorcade stopping in front of SAC Operations Building and Pres Kennedy shaking hands with spectators. 5) Scenes of ceremony at side of VC-137C honoring Gen Power for his outstanding work during the Cuban Crisis -- shows color guard, Gen Power holding plaque and Pres Kennedy speaking.
Notes
Accompanied by Vice President Lyndon B. Johnson, President John F. Kennedy visits the Omaha headquarters of the Strategic Air Command. The visit had added significance for two reasons. Firstly, it came in the aftermath of the Cuban Missile Crisis (October 16-28), the world's closest brush with nuclear war to that point. Secondly, the visit took place on the anniversary of the Pearl Harbor attack in World War II.
The clip is silent, but here's the text of JFK's remarks:
It is a great pleasure to present this plaque to the Commanding Officer of SAC and, by this plaque, to indicate our great appreciation to the officers and men of the Strategic Air Force stationed here at this base and all around the world, and also their wives and members of their families who also serve.

This plaque pays particular attention to the contribution of the Strategic Air Command during the most intense days of the Cuban crisis. The record of SAC in mobilizing the forces of the United States was unprecedented in the long history of SAC. The amount of flights made during that period of time, the amount of men that were involved, was a record unparalleled by any country in the history of air power. There is no doubt that it contributed greatly to the maintenance of the peace and the security of the United States and those countries associated with us, and also contributed to a result which has, I believe, increased our security, so we are very much indebted to you all.

Living on this base, flying from this base, men have helped maintain the security and peace for 15 years. And it is my strong belief, a belief which has been strengthened by this morning's visit, that that peace and security can be maintained directly with the will and the courage of the people of the United States and the strong right arm, which is the Strategic Air Force.

We are indebted to you all in the past, now, and our security depends upon you in the future.

Thank you very much.1