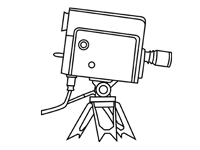 Footage of JFK's visit to Fort Stewart, Georgia, where the 1st Armored Division was based. It was one of several bases in the southeastern United States that President Kennedy visited in the aftermath of the Cuban Missile Crisis.
ARVE Error: Mode: lazyload not available (ARVE Pro not active?), switching to normal mode

Catalog Card
Date: November 26, 1962
Original Title: President Kennedy visits 1st Armored Division; Arrival of General Powell, Fort Stewart, Georgia, 11/26/1962
Film Type: Black and White / Silent
Credit: US Army Audiovisual Center
Archival Source: National Archives / 200-UN / 111-LC-46231
Transcript / Shot List
Pres. John F. Kennedy arriving in helicopter. He is accompanied by members of Joint Chiefs of Staff. The President and party walk from the helicopter. Trucking shot. Presidential car during review of troops (shaky). The President and party with Maj. Gen. Ralph E. Haines, 1st Armored Div. CG, in reviewing stand. VS, band seated in jeeps passing in review. LS, Pres. Kennedy speaking from stand. LS, President and party leaving stand. VS, President and party walk on field and watch soldiers on Confidence Course. LS, Presidential helicopter taking off. Additional scenes of the President observing soldiers on the Confidence Course. LS, plane taxis to stop. LS, MS, Gen. Herbert B. Powell comes off plane and is greeted by Maj. Gen. Raplh E. Haines Jr., CG, 1st Armored Division. VS, Gen. Powell greeting staff officers and getting into car. Car drives off.
Notes