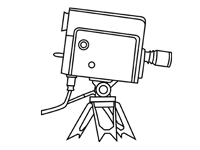 JFK visits El Paso, Texas, with Vice President Lyndon Johnson.
ARVE Error: Mode: lazyload not available (ARVE Pro not active?), switching to normal mode

Catalog Card
Date: June 5, 1963
Original Title: President John F. Kennedy's visit to El Paso, El Paso, Texas, 06/05/1963
Film Type: Black and White / Silent
Credit: US Army Audiovisual Center
Archival Source: National Archives / 111-LC / 111-LC-46958
Transcript / Shot List
CU: sign: "Welcome to Briggs Air Force Base". Dignitaries arrive by plane and are greeted by officers. Crowds at airfield waiting for the arrival of the President. Some people carrying signs: "Welcome JFK". Color Guard and band on field. MSs, President Kennedy addresses crowd from stand on airfield.
Notes
Here's the text of JFK's remarks:
Mr. Vice President, Mr. Mayor, Governor, Senator Yarborough, Congressmen, your former Mayor and our present distinguished Ambassador to Costa Rica, who represents not El Paso or Texas but all of the country with distinction–Ambassador Telles; ladies and gentlemen:

As the Vice President said–Lyndon and I came to El Paso in 1956 working for Adlai [Stevenson] and [Senator] Estes [Kefauver [D-Tennessee]], and we had a small crowd in a small room in a downtown hotel, and then we came here in 1960 after the beginning of the campaign of 1960, after a rather slow trip down from California. I think the meeting we had here at the airport and the meeting we had the next morning really started the 1960 campaign for that tremendous landslide that swept the Vice President and I into office by one-tenth of one percent.

I am delighted to be here with your distinguished Governor, who was the Secretary of the Navy and then came home to Texas like all Texans wish to, and now represents and leads this State with great distinction as a real Democrat. So I am glad to see him here. We read a good deal about Texas and we read a good deal about what is happening down in Texas and all over the United States, and I must say it is a source of encouragement to me, as I am sure it is to the Vice President, to leave Washington and realize that there are a few Democrats left in Texas, as there are in Massachusetts.

I have made so many nonpartisan speeches today that I am glad to say that it is a pleasure to come here not merely as President of the United States but also as a Democrat who believes in the Democratic Party. I have watched for a years in Washington and in the country and I know what the Republican Party is against and I know what the Democratic Party is for. And they are for the same things that made this State of yours and this city of yours and this country of ours, and that is to move forward and build and recognize that change means progress and progress means the welfare of our people, as it did in the days of Franklin Roosevelt and as it does in 1963. So I am glad to be here.

The Vice President this morning addressed the commencement of the Naval Academy, and I addressed the commencement exercises of the Air Force Academy in Colorado, and together we saw some of the missiles that are being developed in New Mexico. We have seen the United States today. We have seen some of the young men who will serve this country in the next generation all over the globe, as their predecessors did before them.

This country was not made by people who sat in their own community and followed their own private interests. Instead, it was made by the men who went to Annapolis and West Point and the Air Force Academy and all the others, and there are one million of them today serving this country abroad, serving not only this country, but the cause of freedom. That is what makes this a great country.

And I am glad to leave Washington, D.C., and come to the Pass of the North, El Paso, a part of the Old West, but also a part of a new America. I am proud to be with you. This State and country is going to continue to move forward, and El Paso and Boston will be in the lead.

Thank you.1