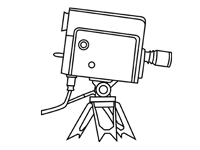 In a brief Oval Office ceremony, Chief of Staff of the Army General Earle Wheeler and Secretary of the Army Cyrus Vance present JFK with the U.S. Army Flag with battle streamers. The flag is then placed behind the President's desk.
ARVE Error: Mode: lazyload not available (ARVE Pro not active?), switching to normal mode

Catalog Card
Date: December 17, 1962
Original Title: Army flag presented to President Kennedy, White House, Washington, D.C.
Film Type: Black and White / Silent
Credit: US Army Audiovisual Center
Archival Source: National Archives / 111-LC / 111-LC-46351
Transcript / Shot List
Sec. of the Army Cyrus R. Vance presents Army flag with battle streamers. Soldier of the 3d Inf. Honor Guard places flag in holder near the President's desk.
Notes
According to the President's Daily Diary, the ceremony took place between 9:36 and 9:50 A.M.