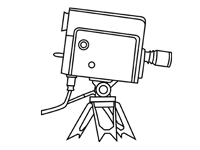 Footage from JFK's widely-lauded visit to West Berlin in June 1963, including JFK at Checkpoint Charlie at Berlin Wall and crowd scenes along the motorcade route.
ARVE Error: Mode: lazyload not available (ARVE Pro not active?), switching to normal mode

Catalog Card
Date: June 26, 1963
Original Title: President John F. Kennedy's visit to Berlin, Germany, 06/26/1963
Film Type: Black and White / Silent
Credit: US Army Audiovisual Center
Archival Source: National Archives / 111-LC / 111-LC-46994
Transcript / Shot List
Trucking shot: the President's car going through the crowded streets (very shaky; not usable). MS, President Kennedy on stand at Checkpoint Charlie looking toward the Wall. The motorcade driving through the crowded streets ticker tape falling. (Very shaky. Overexposed and unusable.) HSs of crowds jamming the streets. LS, the President speaks from stand to the assembled crowds. MS, Kennedy at microphone gives farewell speech to crowd at airport; Mayor Willy Brandt stands to his right. Additional trucking shots of the motorcade going thru the city. (These shots are shaky, overexposed, and unusable.) MS, the President on platform looking toward the Wall and the Brandenburg Gate (over exposed).
Notes