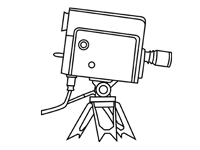 Footage of a demonstration exercise of perimeter security measures at Tactical Air Command headquarters at Homestead Air Force Base during or shortly after the Cuban Missile Crisis.
ARVE Error: Mode: lazyload not available (ARVE Pro not active?), switching to normal mode

Catalog Card
Date: November 1, 1962
Original Title: TAC OPERATIONS, HOMESTEAD AFB, 10/1962 - 11/1962 Reel 3
Film Type: Black and White / Silent
Credit: U.S. Air Force
Archival Source: National Archives / 342-USAF / 342-USAF-34535A
Transcript / Shot List
Reel 3: 1) Shows AP demonstrating security measures by halting airman in restricts area and holding him for arrival of security truck. 2) Scenes of men in tents resting.
Notes
The date assigned here is approximate. The original footage isn't dated precisely on either the clapboards or the NARA record locator, but the original shot list says it was filmed during the Cuban Missile Crisis.