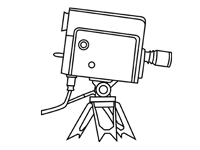 General Maxwell Taylor is sworn in as the new Chairman of the Joint Chiefs of Staff in ceremony in the White House Rose Garden.
ARVE Error: Mode: lazyload not available (ARVE Pro not active?), switching to normal mode

Catalog Card
Date: October 1, 1962
Original Title: Swearing in of Gen. Maxwell D. Taylor as Chairman of the Joint Chiefs of Staff, White House, Washington, D.C. ; Army flag presented to President Kennedy, White House, Washington, D.C. ; General Taylor and Sec. Defense McNamara, Washinton, D.C., 10/01/1962 - 01/1963
Film Type: Black and White / Silent
Credit: US Army Audiovisual Center
Archival Source: National Archives / 111-LC / 111-LC-46351
Transcript / Shot List
VS, Gen. Taylor speaking to guests before the ceremony. MLS, Gen. Taylor with Gen. Omar N. Bradley. Attorney General Robert F. Kennedy swearing in Gen. Taylor. President John F. Kennedy congratulates Gen. Taylor and gives him the Presidential orders. MLS, Gen. Taylor speaking. MLS, Gen. Taylor poses with officers who have held Chief of Staff positions in former years. LS, Marine Band playing.
Here's the text of JFK's remarks:
General, it's a great pleasure to participate, for all of us: the Deputy Secretary of Defense representing the Secretary, other members of the Joint Chiefs of Staff of the Air Force, the Navy, and representatives of the Marine Corps, also former members of the Chiefs of Staff and the former Chairman of the Joint Chiefs of Staff who are with us today--General Lemnitzer and General Decker.

It's a great pleasure to have this opportunity to swear in General Taylor as Chairman. I have worked very intimately with General Taylor where he has been the military representative of the President, working closely with me as liaison with the Chiefs, who are my official advisers under the laws of the Congress, and as a practical matter of fact.

General Taylor will now assume responsibility borne with such distinction by General Lemnitzer as Chairman of the Joint Chiefs, and, therefore, as Chairman of the Advisory Board to the President on matters affecting the national security.

I am impressed as President with the succession of distinguished officers whom I have had the opportunity to serve with General White, who was the first to retire; Admiral Burke, head of the Navy; General Decker, who's now retired as head of the Army; General Lemnitzer, who's moved on to new responsibilities: others who are here; the man who took over, General LeMay, Admiral Anderson, and now General Wheeler, a number of distinguished and patriotic men of high competence and integrity who serve in our Armed Forces. And while these men are the leaders of our Armed Forces rank after rank, I think we find the same qualities down to the academies at West Point, Annapolis, and the Air Force.

So this country's very fortunate. Instilled with a strong constitutional sense of the responsibility of the Armed Forces to the civilian heads, they carry out their duties and also advise in a way which makes it possible for us to fulfill our responsibilities and oath more effectively.

So we're grateful to the Armed Forces and those who in a number of ways carry out their responsibilities to their country in all parts of the world, and we're particularly glad to have General Taylor, with his broad experience, his distinguished combat record in Europe, and in the Pacific and in Korea, who I think comprehends and divines the great strategic and tactical problems which face the United States and the free world today.
Notes
Attorney General Robert Kennedy administered the oath, and Taylor's predecessor, General Lyman Lemnitzer, was also on hand. Others current officials present included Secretary of Defense Robert McNamara, Deputy Secretary of Defense Roswell Gilpatric, Director of Central Intelligence John McCone, General Earle Wheeler, Admiral George Anderson, and General Curtis LeMay.
At the beginning, Taylor stands next to five-star General Omar Bradley, who had been the first Chairman of the Joint Chiefs of Staff, serving from 1949 to 1953. After the ceremony, Taylor poses with all of his predecessors as JSC Chairman: Bradley, Admiral Arthur Radford, General Nathan Twining, and Lemnitzer.
Taylor's critique of the Eisenhower administration's emphasis on nuclear deterrence had helped shape JFK's position on American defense posture during the 1960 campaign.
Of the appointed Chairmen of the Joint Chiefs of Staff thus far, Taylor had the shortest stint in the position. Only Admiral David E. Jeremiah has a shorter one, but he was only temporarily acting in the position for a few weeks until General John Shalikashvili took up the position.