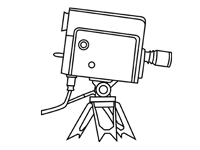 A news report of French President Charles de Gaulle's visit to Algeria to push for a referendum on self-determination.
ARVE Error: Mode: lazyload not available (ARVE Pro not active?), switching to normal mode

Catalog Card
Date: December 12, 1960
Original Title: Algeria Aflame: De Gaulle's Visit Sets Off Renewed Turmoil
Film Type: Black and White / Sound
Credit: MCA/Universal Films
Archival Source: National Archives / 200-UN / 33-100
Transcript / Shot List
President Charles de Gaulle of France tours strife-torn Algeria to rally support for his plans for a referendum paving the way for self-determination.
With characteristic indifference to danger, de Gaulle has disregarded police lines to mingle with crowds, Muslim and French alike. But while de Gaulle braved the crowds elsewhere in the North African state, in Algiers bloody riots were staged by fanatic French settlers an opposition to his mission.
Days of bloody street fighting between French settlers and army units that stayed loyal to the government took a shocking toll. Afterwards, Muslim demonstrators surged out of the casbah to match the violence of the French settlers.
In the final toll of a week of bloodshed, over 100 were killed and thousands injured. Police, army units and rebels dueled fiercely, exchanging Molotov cocktails and tear gas bombs until order was finally restored and an uneasy quiet imposed.
With the threat of French rioters on the one hand and Muslim demonstrators on the other, Algeria remains in an uneasy and troubled posture.
It was the Algerian crisis that toppled the Fourth Republic and brought de Gaulle to power.
Now, with the war between French forces and Algerian nationalists in its seventh year, pressures mount to resolve the situation.
But the extremists on both sides oppose de Gaulle's plan for a simple yes or no vote. Yes, for immediate reorganization and the program leading to self-determination by the Muslim majority. No, meaning continuance of the present costly stalemate.
Armed force imposes an uneasy quiet as de Gaulle carries forward his program against the likelihood of renewed violence in Algeria.
Notes
With Algeria still in turmoil, French President Charles de Gaulle visited the country in December 1960 to push for a referendum on self-determination for the country's population.