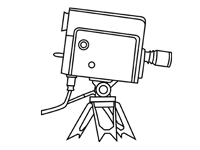 Coverage of F-100's from 352nd Fighter Squadron departing for Saudi Arabia in June 1963.
ARVE Error: Mode: lazyload not available (ARVE Pro not active?), switching to normal mode

Catalog Card
Date: June 28, 1963
Original Title: HARDSURFACE, 06/28/1963 - 07/06/1963
Film Type: Color / Silent
Credit: U.S. Air Force
Archival Source: National Archives / 342-USAF / 342-USAF-35367B
Transcript / Shot List
Coverage of F-100's from 352nd Fighter Squadron departing for Saudi Arabia. Shows pilots being briefed, eating breakfast, making preflight inspection and aircraft taking off. Also includes logistical support equipment being transported from Myrtle Beach AFB to Charleston AFB and loaded onto a C-123 and C-133's, aircraft taxiing, C-133 crew during flight and medic setting up a dispensary in Saudi Arabia.
Scenes of pilots going through breakfast line and eating. 114' MLS's of metro truck pulling up by F-100 on ramp, ground crewmen closing F-100D canopy and leaving by truck. (Raining) 161' MS of MATS C-133A taxiing right at Charleston AFB. 189' AMLS of F-100's taxiing out to runway -- HH-43A with FSK underslung in flight to left and F-100D on takeoff run to right. 313' MLS to MCU of four flat bed trailers loaded with support equipment leaving Myrtle Beach AFB. 369' MS of flat bed trailer waiting at corner and making turn past sign to Charleston AFB -- pan right with second flat bed trailer after making turn. 442' MS of stenciling on equipment reading: USAF OFFICIAL USE ONLY -- pan left and tilt up to show other equipment on flat bed trailer. (Dark scene) 501' MS's & MCU's RV C-133A as engines start and cargo door closes. 548' MS SV of MATS C-133 taxiing right and left at Charleston AFB and executing turn.
Notes