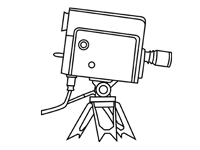 President Kennedy, former President Dwight Eisenhower, Allen Dulles, and Chief Justice Earl Warren attend the dedication ceremony at Dulles International Airport in the Northern Virginia suburbs just outside Washington DC.
ARVE Error: Mode: lazyload not available (ARVE Pro not active?), switching to normal mode

Catalog Card
Date: November 17, 1962
Original Title: DEDICATION OF DULLES INTERNATIONAL AIRPORT, 1962
Film Type: Color / Silent
Credit: Department of Labor
Archival Source: National Archives / RG174 / 174.42
Transcript / Shot List
On the opening of Dulles International Airport in Chantilly, Va. R.1: President John F. Kennedy and ex-President Dwight Eisenhower speak before crowd; people tour airport and jets take-off. R.2: Same as above with Kennedy, Eisenhower, Secretary of State Dean Rusk, Chief Justice Earl Warren and Allan Dulles seated on platform.
Notes