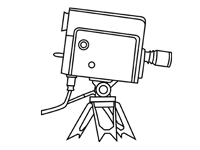 A filmed program on the technology of aerial reconnaissance, including the U2 spyplane. Along with footage of the intelligence information they acquire, there are interviews with experts.
ARVE Error: Mode: lazyload not available (ARVE Pro not active?), switching to normal mode

Catalog Card
Date:
Original Title: TECHNOLOGY FOR TOMORROW (EYE IN THE SKY)
Film Type: Black and White / Sound
Credit: U.S. Air Force
Archival Source: National Archives / 342-USAF / 342-USAF-31309
Transcript / Shot List
Coverage of a program presented over WHIO-TV showing the new techniques of aerial reconnaissance including both camera, radar and infrared images. 1) Infrared sensor mounted on U-2 with USAF markings. 2) Aerial camera mounted on WW I aircraft. 3) U-2 taking off -- IR sensor mounted above cockpit. 4) AV of Dayton, Ohio. 5) AV's of Manhattan -- camera, infrared and radar images. 6) Series of slides -- aerial photos of airfields and Capitol Building. 7) Atomic explosion and mushroom-shaped cloud.
Notes