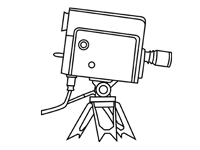 The U.S. Air Force undertakes a humanitarian mission to assist the people of Seville recover from flooding.
ARVE Error: Mode: lazyload not available (ARVE Pro not active?), switching to normal mode

Catalog Card
Date: November 28, 1961
Original Title: USAF ASSISTS IN FLOOD RELIEF, SEVILLE AND MORON AB, SPAIN, 11/28/1961 - 11/29/1961
Film Type: Black and White / Silent
Credit: U.S. Air Force
Archival Source: National Archives / 342-USAF / 342-USAF-32067
Transcript / Shot List
Coverage of USAF assistance given to citizens of Seville during floods resulting from a dam break showing people in shelter, city when flood was at its crest and after it had subsided. Reel 1: 1) Spanish citizens and military personnel in shelter and meals being served by Family Services Volunteers at Moron AB. 2) Col Rogers with mayor of Seville in mayor's office. 3) Scenes of flood damage to homes. 4) Street scenes showing partially submerged buildings, flooded streets and clean-up activities by citizens. 5) Donkeys being led across top of levee. 6) Spanish soldiers resting on river bank and in sandbagging operations at break in levee. 769' Total footage in reel. Reel 2 1) USAF bus moving through flooded street. 2) Street scenes and AV's of flooded city. 3) Milkman making house-to-house deliveries through flooded streets. 4) Spanish soldiers repairing break in levee. 5) Train of donkeys carrying sandbags. 6) Spanish citizens being served meals at Moron AB shelter.
Notes