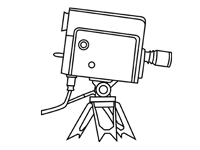 Recovery in at Edwards Air Force Base of the experimental, supersonic rocket-powered aircraft X-15 after landing. The X-15 holds the record to this day for the highest speed ever reached by a manned, powered aircraft.
Catalog Card
Date: June 11, 1962
Original Title: X-15 RECOVERY (EDWARDS AFB, CALIFORNIA) 11 JUN 62, 06/11/1962
Film Type: Color / Silent
Credit: U.S. Air Force
Archival Source: National Archives / 342-USAF / 342-USAF-30335
Transcript / Shot List
Post flight X-15 recovery activities, personnel and equipment. Landing and taxi as seen from landing aircraft. Post flight shot of Mr. Walker. A/G MLS Series of shots of X-15 post flight with emergency vehicles clustered around. 16' MLS Landing as seen from landing C-47 A/C R/L. X-15 to be seen through window. 34' MLS MS Taxi in toward X-15 as seen from cockpit of landed C-47 A/C. 59' MS C-47 A/C with X-15 in B/G. 69' MS MCU Series of shots showing recovery activities around X-15. 98' MS Group of technicians standing around. 102' MS Shot of Mr. Walker. 106' MS Portable generator being towed out of position at X-15 R/L, leaving X-15 exposed. 113' MS X-15, with recovery activities. 121' CU Tail of X-15. 126' MS Emergency crane in position at X-15. 129' MLS MS MCU Crane cable being fastened to X-15. 148' LS Crane at X-15 with take off of C-47 A/C in B/G R/L, panning with A/C. 156' MLS MS Series of shots showing crane lifting tail section off of X-15. 191' MS MCU Shots showing jacking up forward wheel of X-15. 198' MLS MS MCU Series of shots showing activities related to fastening cables to X-15, raising it and placing it on trailer. 305' MCU Fastening X-15 to trailer. 310' MLS Crane driving away from area, with X-15 in F/G. 327' MS Preparing X-15 for transport on trailer. 340' MS Trailer with X-15 moving out of area L/R. 349' MS Loading X-15 tail section onto small trailer. 357' LS Remaining vehicles leaving recovery area. 365' Total footage. Good (Basic: 16mm Orig)
Notes
The X-15 set speed and altitude records in the 1960s, reaching the edge of outer space and returning with valuable data used in aircraft and spacecraft design.
The X-15 holds the official world record for the highest speed ever reached by a manned, powered aircraft. Its maximum speed was 4,520 miles per hour (7,274 km/h).
Contact Sheet