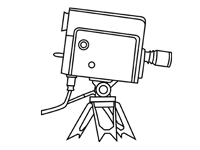 Congolese President Joseph Kasavuku returns to the Congo after visiting the United Nations in New York to muster support against Patrice Lumumba.
Catalog Card
Date: December 1, 1960
Original Title: Congo: Kasavubu Hailed, Lumumba in Hiding
Film Type: Black and White / Sound
Credit: MCA/Universal Films
Archival Source: National Archives / 200-UN / 33-97
Transcript / Shot List
President [Joseph] Kasavubu's dress uniform is carried to his plane so he can appear in full regalia at Leopoldville Airport. He is returning from the United Nations where he won recognition as head of the Congo Government over the opposition delegates of Patrice Lumumba. Kasavubu gets a hero's welcome.
One of his first acts was to order the expulsion of the Egyptian ambassador.
A new shift to the political climate sees Kasavubu high in popularity and prestige, but future storm signals are up as Lumumba, still fanatically supported by many, continues in hiding, at large despite strenuous efforts by the army and police to locate him.
Notes
Congolese President Joseph Kasavuku had been in New York at the United Nations to generate support against leftist Patrice Lumumba. There's another report from 4 days later on the capture of Lumumba.