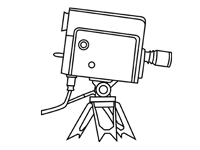 Medical tests on the effects of some of the stresses on the bodies of astronauts in the lunar landing program and other space travel, including the effects of zero gravity, heat stress, and escaping from a capsule falling from space.
Catalog Card
Date: December 31, 1960
Original Title: AEROSPACE MEDICAL RESEARCH, 1960
Film Type: Color / Silent
Credit: U.S. Air Force
Archival Source: National Archives / 342-USAF / 342-USAF-31294B
Transcript / Shot List
Film outline of Aerospace Medical Research on Zero Gravity, Heat Tolerances, Project Hermes, Escape Capsules, Impact, Acceleration, Vibration and Project Excelsior. 27' ZERO GRAVITY. Shows C-13lA HOW HIGH THE MOON. AV's of C-l3lA performing Keplerian Trajectory. INT C-13lA with personnel under weightless conditions. Miss Beatrice Finkelstein, ASD, giving food packs to F-104B pilot. F-lO4B takeoff to left. F-1O14B passenger eating under zero-gravity conditions. (B&W) AV's of F-lO4B performing Keplerian Trajectory. Personnel entering crew compartment mockup and undergoing tests. Recorders and personnel recording test results. 360' HEAT TOLERANCE. Subject in space suit getting into oven. Operation of quartz lamp oven. Subject in space suit getting out of oven. 405' PROJECT HERMES. Mr. Courtney Metzger entering and leaving space capsule containing a closed ecological life support 533' ESCAPE CAPSULES. AV's from onboard B-47A dropping escape capsule. Tracking camera footage of escape capsule descent and landing. 598' IMPACT. Test subject being dropped from the Incline Test Facility at W-PAFB, Ohio. 647' ACCELERATION. Shows blood samples being taken from a dog on the Aeromedical centrifuge. 802' VIBRATION. Vibration testing of subjects on the vibration chair and vertical acceleration test stands. lO98' PROJECT EXECELSIOR. Capt Joseph W. Kittinger, Jr. getting into gondola. Launch of balloon and gondola. AV's of balloon and gondola. Capt Kittinger jumping from gondola. Landing of Capt Kittinger and gondola.
Notes
Contact Sheet