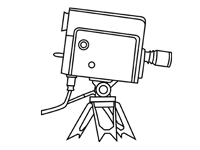 JFK tours Checkpoint Charlie in West Berlin and climbs a viewing platform to look over the Berlin Wall into East Berlin.
Catalog Card
Date: June 26, 1963
Original Title: President John F. Kennedy visits Berlin, Germany, 06/26/1963
Film Type: Black and White / Silent
Credit: US Army Audiovisual Center
Archival Source: National Archives / 111-LC / 111-LC-47010
Transcript / Shot List
HSs at Checkpoint Charlie. President and party arrive. An officer explains the area to the President. The President climbs platform overlooking East Berlin. The President, followed by group, returns to a car with Mayor Willy Brandt. (The above scenes at Checkpoint Charlie are unsteady.) Follow shot, Presidential car driving away from crowd. VS, people in front of the Outpost Theatre.
Notes
Contact Sheet