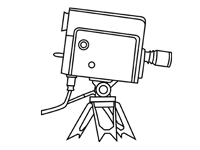 Footage of U.S. Air Force planes carrying out bombing strikes in Cambodia in June 1970.
Catalog Card
Date: June 3, 1970
Original Title: AIR STRIKES I AND II, TAN SON NHUT, QUAN LOI AND CAMBODIA, 06/03/1970
Film Type: Color / Silent
Credit: U.S. Air Force
Archival Source: National Archives / 342-USAF / 342-USAF-46070A
Transcript / Shot List
Coverage includes A-37 aircraft air strikes over Cambodia; dropping bombs on enemy locations. Aerials of O-1 aircraft in flight, boarding of troops aboard C-130 at Tan Son Nhut, and maintenance being performed on O-1 aircraft of Quan Hoi.
Notes
Contact Sheet