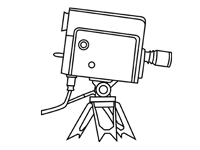 Aerial footage from a US Air Force helicopter of the Berlin Wall in early 1962, including the Brandenburg Gate and looking over into East Berlin from above West Berlin.
Catalog Card
Date: February 9, 1962
Original Title: BERLIN WALL, GERMANY, 9 FEBRUARY 1962, 02/09/1962
Film Type: Color / Sound
Credit: U.S. Air Force
Archival Source: National Archives / 342-USAF / 342-USAF-31891B
Transcript / Shot List
Aerial coverage of the Communist-constructed wall separating the East and West sections of Berlin. Various scenes along the wall show river, bridges, canal, double wall, concrete construction in front of the Brandenburg gate, check points and guard houses.
Notes
Contact Sheet