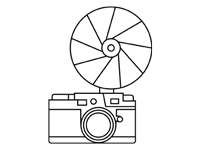 This photo in the archives of the Richard Nixon Library claims to show the closet that LBJ's secret White House tapes recording system was installed in.
The back of the photo carries a handwritten notation. It's not known who wrote it or when.
Bob Haldeman's office (next to Oval Office) showing closet on right containing LBJ's electronic gear that related to the bugging of the Oval Office. The box at upper right corner is Presidential locator board. This was Jim Jones' office under LBJ. Haldeman redecorated and remodeled.
The photo is stamped as having being taken on 29 February 1969. If the date is accurate, President Nixon was not yet taping in the White House. But when he did start, the Presidential locator box (upper right), with its lights showing which part of the White House the President was in, became part of the system that activated the recorders.