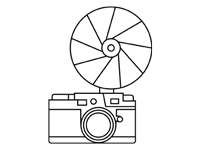 This is President John F. Kennedy's Dictaphone machine that he used to dictate speeches, memoranda, and notes as well as to record some of his telephone calls in his collection of secret White House tapes. It's one of the artifacts in the holdings of the JFK Library & Museum.
The model is a Dictaphone "Time-Master" 117000 type P6. It's constructed of metal and plastic and measures (overall) 2 3/4 x 12 x 10 1/2 in. (7 x 30.5 x 26.7 cm). It was made in New York by Dictaphone. Recordings were made by cutting grooves on to cylindrical plastic belts known as Dictabelts.
You can find more about JFK's secret White House tapes here.
And here is a 1959 print ad for the Dictaphone "Time-Master" that focuses on the time-saving (and cost-saving) that the new technology promised.